India is an expansion, which requires a base game. It comes with Switzerland.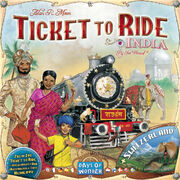 Components
[
]
An Indian map and corresponding tickets, and a rulebook.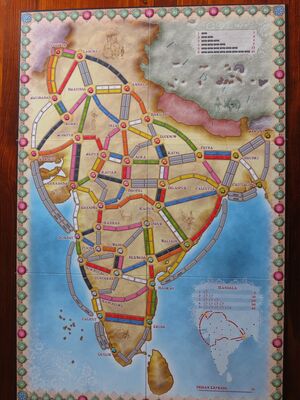 Differences
[
]
India can only be played with 2 to 4 players. Also, double routes are available only in 3 or 4 player games.
If you complete a ticket making a circle, you get a certain Mandala bonus: for your first Mandala you get 5 points, for the second, 10, for the third, 20, for the fourth, 30, and for the fifth and more you get 40 points.
Lore
[
]
Embark on a tour of Ian Vincent's India and discover one of the most densely populated and colorful countries of the world. The year is 1911, and the world is changing fast in the British Raj. Will you complete your Grand Tour in time, or lose to more cunning – or simply better connected – opponents?
Trivia
[
]
This map was made by Ian Vincent, who tied for first in the Ticket to Ride Map Creation contest.