Nordic Countries is the fourth installment of the Ticket to Ride series. When it was released, it was only available in the countries shown on the map (bar Estonia and Russia).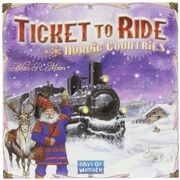 Components
[
]
The same as in the first game, but with 45 black, purple, and black trains and score markers (and a Nordic-themed map and corresponding tickets, but that's obvious).
Setting up
[
]
The same as in the first game, but give only 40 trains and 5 destination tickets to each player.
How to play
[
]
The same as in the first game, with some added features:
Ferries
Tunnels
9 space route worth 27 points. On this route, any 4 cards can replace the main color.
Like Switzerland, wilds may only be used for tunnels and ferries.
On ferries, you may trade in any 3 cards to replace a locomotive.
Lore
[
]
Ticket to Ride Nordic Countries takes you on a Nordic adventure through Denmark, Finland, Norway and Sweden as you travel to the great northern cities of Copenhagen, Oslo, Helsinki and Stockholm. Visit Norway's beautiful fjords and the magnificent mountain scenery on the Rauma Railway. Breathe in the salt air of the busy Swedish ports on the Baltic Sea. Ride through the Danish countryside where Vikings once walked. Hop on the Finnish railway and travel across the Arctic Circle to the land of the Midnight Sun.
Trivia
[
]
This map is set in 1910. However, the town of Imatra was founded in 1948.