Ticket to Ride - Europe is the sequel of Ticket to Ride.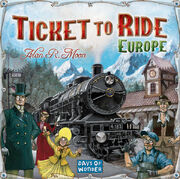 Components
[
]
The same as in the first game, but with 3 station markers per color (as well as a European map and corresponding tickets, but that's obvious)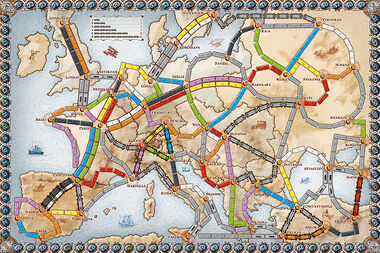 Setting up

[

]
The same as in the first game, but give one long ticket to each player as well as 3 short ones.
How to play
[
]
The same as in the first game, with some added features:
8 space routes are worth 21 points
Tickets are divided into long and short tickets (long ones have a blue background). Any long ticket not taken at the start of the game goes back in the box. The start is your only opportunity for a long ticket.
Lore
[
]
From the craggy hillsides of Edinburgh to the sunlit docks of Constantinople, from the dusty alleys of Pamplona to a windswept station in Berlin,  Ticket to Ride Europe takes you on an exciting train adventure through the great cities of turn-of-the-century Europe.
Trivia
[
]
The map is presumably set in 1902, since USA 1910 is set 10 years after USA, and 1910's counterpart is Europa 1912.
Awards
[
]
2005 International Gamers Awards – General Strategy; Multi-player
2005 Japan Boardgame Prize Best Advanced Game Nominee
2005 Italy game of the Year
2005 Nominated Game Academia selection (Austria)
2006 Årets Spill Best Family Game Winner
2013 Hungarian Board Game Award Special Prize Winner